Automobile
The Subaru Crosstrek's Seductive Versatility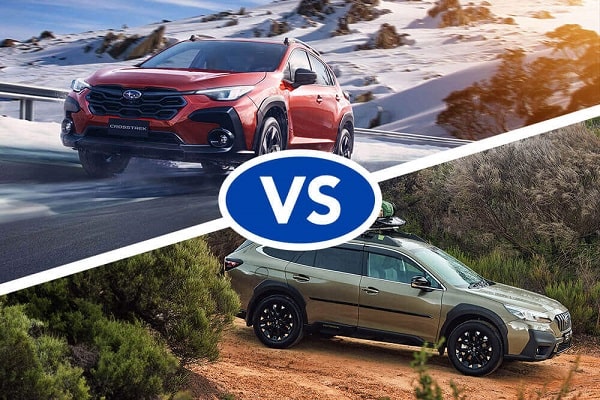 The Subaru Crosstrek has captivated the hearts of many car enthusiasts and people worldwide. It emerges as one of the most trusted brands when it comes to car crossovers because of its high-quality materials and high-end technologies. The Subaru Crosstrek and Subaru Outback are standout contenders in making any effortlessly combining into a much more alluring adventure with its practicality on the everyday driving experience. The Crosstrek has been encapsulating a great spirit in terms of exploration while ensuring a seamless transition from city streets down to off-road performances. It has a distinctive design, a commitment to comfort and efficiency, and an all-new wheel drive capability. Let's take a closer look at the Subaru Crosstrek's most important features and benefits, making it a great choice for people and families who want a vehicle that fits with an active lifestyle and offers high-quality performance, innovation, and flexibility. This model gives car owners a lot of choices for getting great performance out of their cars.
Fuel Efficiency
The Subaru Crosstrek has impressive commendable fuel efficiency, making it an economical choice for those who are concerned about the carbon footprints that are happening in the environment to avoid fuel costs. Mainly, it helps enhance efficiency by combining a gasoline engine with an electric power that significantly reduces emissions and increases mileage per gallon. Additionally, the commitment to having excellent fuel efficiency aligns with Subaru's outstanding broader performance focusing on environmental responsibility and sustainability. Subaru Crosstrek is a perfect choice for choosing a fuel-efficient option that is environmentally friendly and saving the environment.
Performance and Capability
The Crosstrek suspension has been tuned for a more comfortable ride, ensuring a tremendously smooth driving experience on and off the road. It is available for manual and automatic transmission and has a hybrid powertrain option. It has an AWD system combined with the Crosstrek's elevated ground clearance, enabling an excellent performance in terrains, unpaved trails, and even on city streets. The Crosstrek is ready to provide flexibility to cater to different driving preferences; even efficiency is necessary. The Subaru cars are well-equipped with great technology, making their performance more impressive and a go-to choice for every car enthusiast.
Interior Comfort and Technology
The Crosstrek has high cabin features in terms of high-quality materials, supportive seating capacity, and even a user-friendly control system to create an inviting atmosphere for both short commutes and long journeys. It was also accelerated by having a complete touchscreen set-up that displays the whole smartphone integration, ensuring great entertainment to the go and connectivity. Moreover, the Crosstrek offers great driver assistance technology for adaptive cruise control, automatic emergency brakes, and even an excellent lane departure warning. Its cabin also has significant aspects and features regarding having high-quality materials to support every seating capacity and even user-friendly controls that create a wonderful atmosphere for long journeys and short commutes as it helps create incredible memories on every travel experience.
Design and Exterior
The design and exterior of the Subaru Crosstrek is a significant amendment compared to other vehicles. With excellent raised ground clearance, stylish roof rails, and more pronounced wheel arches, the crosstalk boasts distinctive and rugged designs, setting it apart from its competitors. It has a great compact size to accommodate every passenger. It makes it maneuverable in urban environments while offering enough room for all the passengers and cargo to experience a fun, comfortable ride. Updating every styling cue that includes the sleek LED headlights, a bold grille, and even an athletic stance that gives a great vehicle a more modern and refined look, crosstalk indeed has a great feature.
Performance Comparison Between the Subaru Outback And Crosstrek
Within Subaru's lineup, the Crosstrek and Outback are well-liked vehicles that appeal to various tastes and requirements. Let's compare them in a variety of ways:
1. Dimensions & Size:
Crosstrek: A small, low-profile crossover with compact dimensions. Outback: Midsize crossover with more significant proportions and a higher stance.
2. Internal Room:
Crosstrek: The internal capacity is slightly smaller for smaller families or individuals. Outback: A roomier cabin with more space for passengers and goods, ideal for larger families or those requiring more.
3. Costing:
Crosstrek: It is typically cheaper, making it a desirable choice for customers on a tight budget. Outback: Due to its larger size and more features, it has a higher beginning price.
4. Target Market
Crosstrek: This vehicle appeals to singles, couples, or small families looking for a balance of functionality, style, and sporadic off-roading ability. Outback: This vehicle appeals to those who need additional room, versatility, and improved off-road capability, such as families.
In Summary
An adaptable and unusual crossing SUV that successfully combines excitement and utility is the Subaru Crosstrek. The Crosstrek is suited to urban transportation and off-road adventure thanks to its striking appearance, cutting-edge four-wheel drive system, and dedication to comfort. The interior of this vehicle has premium components and intuitive technological advances, and its effective hybrid option supports ecological consciousness. For those looking for a car that seamlessly mixes style, effectiveness, and versatility, the Crosstrek is an intriguing option.